10 Best Webcam Software Makes You Look Better
Summary :
The webcam on your laptops and even third-party webcams used on desktops come with their own advantages and benefits. However, if you find your default webcam is not capable of adding more effects to your look during a recording or an online meeting, it is advisable to invest in a powerful webcam filter software. It adds up multiple beauty effects and filters to your webcam footage. The high-definition video quality should further make it stand apart from the rest.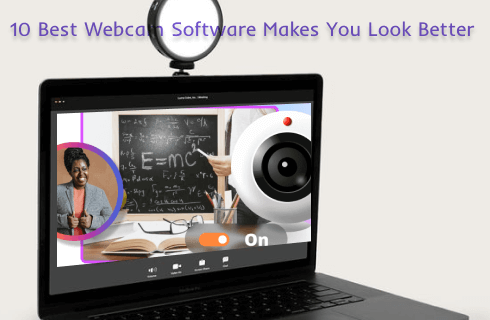 Webcam Filter Software
The pandemic has made online meetings the primary means of working online. However, how about making yourself look great in your online meeting? The best option in this context would be to make yourself look great with powerful webcam software. Let us explore a few prime possibilities for enjoying the best webcam recording feature.
 Software 

Price

Supported platform 

Download from

RecForth

$9.99 for an annual plan

$14.99 for a lifetime plan

Windows
recforth.com

ManyCam

$49 for the standard plan

$79 for the Studio plan

$99 for the Premium plan

Windows
manycam.com

Splitcam

Free
Windows and Mac
splitcam.com

YouCam

Free and paid

$34.99

Windows and Mac
youcam.com

YawCam

Free
Windows
yawcam.com

AnyMirror

Free
Windows and Mac
anymirro.com

Webcam Toy

Free
Browser based operation
webcamtoy.com

Snap Camera

free
Windows and mac
snapcamera.com

Logitech Capture

Free
Any platform
logitech.com

MyCam

Free and paid at $9.99
Windows
mycam.com
# 1. RecForth
RecForth is one of the most potent HD screen recorders. It operates a freemium mode which means you can look for both free and premium features. The simple and easy-to-use interface can further make it a truly powerful webcam software. It does provide you with a one-click download functionality which further makes it relatively easy to work with. You can work with the full-screen, custom, or window recording functionality. You would also have access to a host of multiple video recordings.
Highlights
Quite ideal for recording lessons, game tutorials, demos, and live broadcasts
An excellent video export feature
No limit on the recording time
PROS
Offers a free functionality with a few features hidden behind the paywall.
Unlimited recording
High-quality videos with no watermark. You need to go pay to remove the watermark, though.
Advanced recording features such as Webcam overlay, auto stop, standout pointer, and many more
A great tool for recording lessons, game tutorials, demos, and live broadcasts.
CONS
No support for video editing
Works only with Windows 10 and 11
# 2. ManyCam
ManyCam is yet another worthy tool for your needs in how to make yourself look better. You would be able to enjoy a smoother and more effortless recording of your videos. The free-to-use webcam (along with paid features) software should make it a perfect solution for online sessions, game streaming, telehealth communication, and much more. The advanced features and high-end filters would make it a powerful tool. The Live Whiteboard can be one of the best features to help you in terms of a real classroom-like experience.
Highlights 
A complete video editing tool
Beautification options such as a facemask, transitions, emoticons, etc.
Switch between multiple video sources
Best for presentations, webinars, classes, interviews, launch parties, giveaways, and more.
PROS
Live stream in 4K
An easy-to-use user interface with the drag and drop functionality
Integrated with significant live streaming and video conferencing applications.
A host of manual features are available
Screencasting and screen recording features
CONS
Expensive plans for the businesses
No light enhancement
# 3. Splitcam
SplitCam is yet another powerful and simple tool that you would find for your webcam software needs. It has been trusted by thousands of users with high-end webcam live streaming. You will be able to add both audio and video effects simultaneously to the feed making it all the more interesting. You would find it a truly powerful choice for engaging in video and audio chats online with ease. The easy-to-use interface, coupled with the multiple audio and video effects, should make it a prime solution for your needs.
Highlights
You can use it for LIVE messenger on YouTube, on a Windows computer, Gtalk, and Justin. Tv.
An excellent set of filters and effects
Easy to install and use
Choose multiple video streaming sources
PROS
A wonderful collection of webcam filters and effects to choose
3D real-looking masks
Zoom video capability
Video splitting feature
Free to use
CONS
It may not work on older PCs
The Mac version is available in beta as of now
# 4. CyberLink YouCam
YouCam has been known as the best webcam software ever, and you would find it being made available as the default webcam software on a few laptops. It is a robust tool and goes a long way in enhancing the quality of the webcam. The number of intuitive features would make it further interesting. It comes with the features such as reality effects, customized titles, and sound effects.
Highlights
It involves a wide range of filters and effects
Face beautification features
Extremely affordable webcam software
Multiple distortion effects for fun meet
PROS
No compatibility with Mac
The free version has limited features
CONS
No compatibility with Mac
The free version has limited features
# 5. YawCam
If you are looking for the best experience for your security requirements, the YawCam should be what would make it a great option that you would find much more unique. You would find it a good choice for both streaming and screen recording. If you are a beginner, you will find it a very decent webcam software that you can rely upon. The tool is available exclusively for Windows users. The drop-down functionality of the tool should further make it a truly perfect choice.
Highlights
Options to add text and audio
Robust screen recording features
Easy to use and completely free
Motion detection camera available
PROS
Multiple languages supported
Time-lapse videos
No watermark
A very simple user interface
CONS
Only a few transitions and effects
May not function well at night
# 6. AnyMirror
AnyMirror is a perfect one-stop solution for decent and powerful webcam software that you would find quite interesting. The tool works with iPhone and Android users. You can find it a good choice for Discord and other games. You can use the tool to help you see, edit, and make you look better on the webcam.
Highlights
It comes with a built-in tuner for regulating the source of your video
It works seamlessly with the applications like YouTube and Netflix.
The integrated design flexibly regulates the webcam background
Plenty of webcam effects and filters
PROS
Mirror your phone to the computer in real-time
Easily rotate and zoom capability
You can even take a screenshot
Remote check capability for the webcam
CONS
The interface is a little difficult to master
# 7. Webcam Toy
Webcam Toy is one of the excellent options for helping you in terms of the best screenshot functionality. It should be your one-stop solution for a one-click webcam click with ease. It is the right webcam software to help you with a simple, attractive, and intuitive interface. The web-based interface lets you capture selfie images and assists you in editing them with the best basic effects. The browser integration is what would make it a more robust choice.
Highlights 
Live filters capability
Social media sharing functionality
Still image capture capability
PROS
Close to 100 different effects to choose from
Easy-to-use functionality
Free to use
CONS
Supports static images only
# 8. Snap Camera
Have you ever found Snapchat filters? How about using filters similar to them on your computer? The Snap Camera makes that quite possible. You will be able to bring the best features of the magic lenses to your live streams. The software works seamlessly with Windows and Mac devices with ease.
Highlights 
It is compatible with practically every app that uses the webcam
You can make use of branded lenses for popular video games.
You can easily add fun filters to your videos
It comes with a host of virtual backgrounds to choose from
PROS
Easy to install and simple to use
It can work with every webcam software
You can match the lenses as per your play style
CONS
It keeps running in the background even when not needed
# 9. Logitech Capture
Logitech Capture is the best all-in-one software for almost all the expectations that you may have with respect to the best webcam software. It is free webcam software that works seamlessly with the Logitech webcam. It would be your one-stop solution for almost all your high-quality content requirements for YouTubers. It can even capture the content from two webcams simultaneously.
Highlights
Vertical video capture functioning
Live text overlays
Customizable camera settings
The webcam software also lets you broadcast live.
Multiple resolutions and frame rates supported
PROS
Video recordings from various sources
High-end customization
Easy to use
It can directly stream to YouTube.
CONS
Needs account registration
Works only with Logitech cameras
# 10. MyCam
The last one on our list, MyCam, is a webcam application that lets you apply a wide range of artistic filters to your webcam feed. The filters would include features for distorting, blurring, and a host of other filters that you can put to great use. The webcam software is the right choice for arty filters. A seamless integration with your PC configuration makes it a powerful choice.
Highlights 
Real-time artistic filters to choose from
Hardware acceleration support
An utterly comprehensive webcam software
PROS
Quite an affordable tool for webcam software
Offers several great-looking filters and effects.
Hand-drawn filters make a wonderful artistic functionality
A fun way to enjoy your webcam recordings
CONS
The features are much more basic in nature
The Parting Thoughts
Video conferences and gameplay recordings have been the most critical aspects of today's online lifestyle. If you are looking for the perfect webcam software options, the list of suitable tools outlined in this compilation should prove to be helpful. However, among all the tools that we have covered here, RecForth is definitely a worthy software for all your practical needs.