How to Solve CapCut Couldn't Load Try Again Later Issue
Summary :
Are you worried because you can't finish your videos because of the "Capcut Couldn't Load Try Again Issue"?How can I fix this? Read through this article to find out the possible solutions.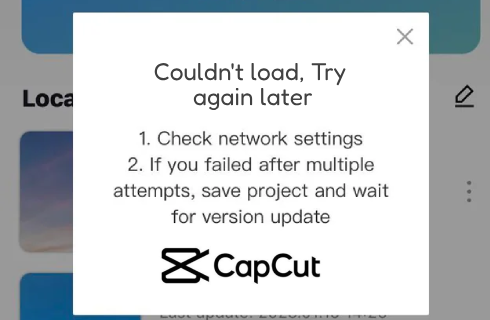 Capcut couldn't load, try again later
Fix CapCut Couldn't Load
What Causes CapCut Couldn't Load Try Again Later Issue
CapCut is one of the leading short-form video editors available on the net today. It has vast editing features along with its simple and easy-to-use layout. Best of all, it's free. With this, everyone enjoys using the CapCut app. However, like other apps, CapCut may encounter issues from time to time. One prevalent issue is the "CapCut Couldn't Load Try Again Later Issue."
| | |
| --- | --- |
| Causes of "CapCut Couldn't Load Try Again Issue" | Solution for the said issue |
| Unstable Internet Connection | Seek a better internet connection, and avoid public Wi-Fi and Cellular data connections. |
| The CapCut app needs to be updated. | Update the CapCut app in Google Play or AppStore. |
| The CapCut app has a corrupted cache. | Go to your phone's app settings and clear the cache |
| Unstable CapCut app. | Re-install the CapCut app from Google Play or Appstore. |
What Causes CapCut Couldn't Load Try Again Later Issue?
Several factors can come into play. Could it be your internet connection? Or could it be the app itself? Whatever the reason, this guide will help you every step of the way.
You don't need unique computer or mobile troubleshooting skills. You only need to know how to operate a mobile phone or a PC. Nowadays, most people can access settings on a phone, tablet, or PC through a menu on the device. If you're afraid to touch any settings on your device, you can ask for help from someone who knows how to.
Note that CapCut tried every means possible to polish the operation of its app. However, bugs can still exist, even for other applications. Regular updates can fix these bugs.
1. Unstable Internet Connection
An unstable Internet connection is the enemy of most cloud-based apps. CapCut is a modern-day app that accesses the internet a lot. This app regularly checks for updates and may try to access some app elements in real-time through the net. With this, it's best always to have a stable internet connection.
You may transfer to a private one if you're on public Wi-Fi. Public Wi-Fi is susceptible to dips in internet bandwidth. You won't know how many people use the internet at any given time. With this, expect a bottleneck on the primary router that may lead to internet access issues.
Also, you may get the "CapCut App Couldn't Load Try Again Later" message when using the app in Cellular Mode. Cellular Data can get disconnected many times during a trip or when you're outside. Some cell sites won't cover you, especially when you're too far away or have interference.
2. The CapCut App is Not Updated to the Latest Version
Most apps today regularly update themselves over the internet. These updates may contain bug fixes. However, you won't get the app's latest and most stable version if the update fails. If this happens, you may get the "CapCut App Couldn't Load Try Again Later" message.
To ensure your CapCut app is up-to-date, begin by navigating to the Google Play Store or the App Store on your device. Once there, search for the CapCut app. If an update for CapCut is available, it will be indicated. Proceed to update CapCut if necessary.
You don't have to research specific CapCut versions to solve this issue.
3. The CapCut App's Cache is Corrupted
Modern apps use a cache on disk on your device. This cache temporarily stores various elements needed to get your app working well. This cache may also speed up access to your app since this cache is stored natively on your disk. With this, CapCut sometimes does not need to access the internet to fetch data since it might already be stored locally.
A warning is that clearing your app's cache can wipe out some of your valuable info or data. If you want to be careful, you can back up important data before clearing and restoring the cache.
The procedure to clear out the cache is complicated. However, follow the steps below to accomplish this:
Clearing Cache on Your Phone:
Firstly, access your phone's settings, then navigate to 'App Management'. From there, proceed to your list of apps and locate CapCut. Once you've selected CapCut, click on 'Storage Usage' and proceed to either 'Clear Cache' or 'Clear Data', as required.
Clearing Cache within Your CapCut App:
To clear the cache directly within the CapCut app, first open CapCut. Then, select 'Edit' located below, followed by clicking on the gear icon situated above. Scroll down through the options until you locate 'Clear Cache', then select it to clear the app's cache.
4. Addressing CapCut App Instability
If the solutions mentioned earlier don't stabilize your CapCut app, the most effective solution could be a fresh reinstallation. Uninstall the app from your device, then download and install a new copy directly from Google Play or the App Store.
Conclusion
CapCutt is a fun and easy-to-use platform for editing your short-form video content. However, like other apps, this app can have bugs. One of the famous bugs is the "CapCut Couldn't Load Try Again Later Issue." This article discussed several ways to fix this issue. After this, enjoy using CapCut bug-free.