5 Methods To Get Unbanned From Omegle
Summary :
This post make you to comprehend Omegle bans a little better. As well as learning some tricks to handle the hassle of Omegle imposing a ban on your account.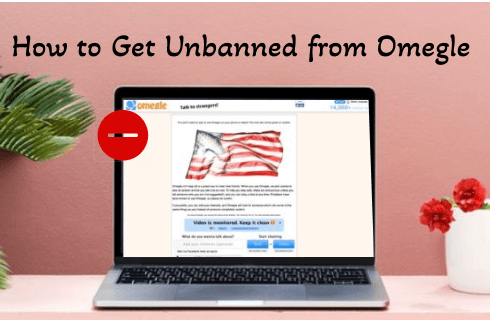 How to Get Unbanned from Omegle
How to Get Unbanned From Omegle
It can happen to you many a time. You will find that you are banned on Omegle. Want to know why you are banned on Omegle or how to get unbanned from Omegle in 2022? Let us try finding out how to get unbanned from Omegle.
Do not miss: How to Record Omegle Video Chat, 10 Chats Sites like Omegle to Talk to Strangers, 12 Best Random Chat Apps for PC and Mobile in 2022
What is Omegle?
Omegle is an app that lets you chat with strangers for both text and audio. It is a straightforward and barebones option in terms of the interface and provides you access to a great experience in how to deal with anonymous chats.
You do not need to have any registration to work with Omegle. Your chats and calls will ultimately be anonymous in every way. The uniqueness of Omegle lies in its randomness. The appeal and unique experience of being able to talk to strangers is what would make it a truly rewarding experience in the long run. You do not have any moderators and strangers on the network, and that is what would make it a good way further.
Why Omegle banned Your Account?
There can be several reasons why Omegle banned you. They have every right to ban your account at any time, and they do not necessarily assign any reason for the same. If you think the ban has been wrong and you need to be unbanned, the VPNs can be one of the suitable options to help get yourself unbanned.
A few of the reasons that can get you banned on Omegle can include
Any activity on your part might have made someone report your account. Even when you have not done anything wrong, it may be due to a misunderstanding that your account has been reported. Any user can report another user for any reason, and at times, the reports are likely to go wrong.
Getting dropped a lot on Omegle can be one of the reasons why you were banned. If a huge number of people tend to drop you on the chats, it may be a reason for Omegle to ban you. Getting dropped too much can be an indication that you are harassing the other users.
You have been dropping many users 
Dropping a lot of users can be yet another reason why you might have been banned on Omegle. The behavior can be an indication that you are not happy or indulging in constructive participation. In such a case, Omegle does have a right to ban your account.
You have violated the terms of service 
You might have violated a few of the terms of services on Omegle. The moderator catches can be one of the reasons. A few reasons can include
The adult content in an area that is reserved for all ages
Abuse and harassment
Racism
Use of music and other media that is copyrighted
Spam content
In the case of a violation, the ban can extend as long as four months. If you have been banned for the first time, you may be unbanned in a week. The offenses such as nudity and racism can invite a lifetime ban.
What are the best Tricks to Get Unbanned from Omegle?
There are a few of the best options that can be helpful in how to deal with the best tricks to get unbanned from Omegle.
Method 1 – Use a VPN service
The best means that can help let you get unbanned from Omegle can be to use a VPN service. You can check out the correct VPN services around you and can check if it fixes the issues for you. The VPN service provides you with the choice of a new IP address within a few minutes, providing you with simple web performance.
The services such as NordVPN are what would make it a genuinely formidable tip in the long run. You will be able to get access to up to six simultaneous connections.
Method 2 – Use a proxy service
Proxy servers do provide you with a similar experience as a VPN service. The proxy servers tend to send the data through an alternate server, which can help you get unbanned from Omegle. This will actually help you access Omegle servers even when you are banned.
You can either use VPN or Proxy servers as per your preferences. The prime difference between a proxy service and a VPN service is that the former does not encrypt your data.
Method 3 – Wait for a few days
If you have been genuinely banned, you can perhaps give some time to Omegle to unban you. It might be possible that you might have been banned only for a few days, and your Omegle ban can be reversed on its own in a few days.
In addition, the ban may also be due to the IP address of your ISP. In such a case, the ban would be gone as soon as your IP address changes.
Method 4 – Connect to a different network and check
In most of the cases, as we already stated above, the ban is on the IP address and not on your account. The IP address on your network that you are currently connected to can be a problem, and changing to a different network can perhaps help you enjoy the services once again.
The culprit device can be the mobile internet, WiFi at the coffee shop, or even a library. Once you change the network, you will find that the ban has been reversed automatically.
Method 5 – Contact customer support
You can get in touch with customer support to help you get unbanned from Omegle. You can send an email to [email protected] and let them know why you deserve to be unbanned. Make it a point to include your IP address and other details.
You can now wait to find out if Omegle takes any action. You are most unlikely to get a reply, but if you can convince Omegle about your innocence, you may get unbanned. Omegle may even uphold the ban and assign a specific reason and may inform you when to expect the ban to be raised.
How to Get Unbanned from Omegle: FAQs
Who uses Omegle?
There is a vast community that uses Omegle. The huge number of visitors that use Omegle would include youngsters from across the world. The platform does receive a considerable impetus from Gen Z. If you are into the impromptu meet-ups, you would be the one who is most likely to be on Omegle. Omegle has most of its users from the US, the UK, Canada, Australia, and India. At the same time, you also have a sizeable audience across France, Germany, Hungary, Austria, Italy, Greece, Israel, Denmark, Brazil, Argentina, Russia, South Africa, Japan, Indonesia, and even Egypt.
Why did Omegle ban me?
Omegle might have banned you on account of several reasons. One of the prime reasons that may render you banned on Omegle can be a violation of a few Omegle terms of service. Sending nude images or showing racism can be a few reasons that can make you ban yourself from Omegle. The nude pictures, racism, and abuse can leave you permanently banned. A few other reasons why you are banned can include dropping too many classes or getting dropped too much. Playing copyrighted content can be yet another reason why you might have been banned.
Is Omegle safe?
Well, it may not be safe to use the letter S. it can result in blackmailing, profanity, pornography, and predation. Privacy and data theft can also be a concern that you may need to pay enough attention to. The non-monitored version is Omegle can be an issue and may not be safer. When using Omegle, you are likely to come across a few unwanted situations, such as having to put up with cybercriminals, bots, rude or racist people — and even horny users.
How long is a ban on Omegle?
Most of the time, if the violation is not much severe, the ban lasts around 24 hours. It can, however, extend to up to 120 days in some instances and scenarios. The violations such as nude images and content or racism can result in a permanent ban. However, there is no way you can learn how long your ban would be. The only choice that you have at your disposal would be to wait out.
The Concluding Thoughts
There are multiple reasons why you are banned on Omegle. Most of the time, the ban on Omegle is more directed towards the IP address, and if that is the case, it would be advisable to change your network or ask your ISP to refresh the IP address for you. The Use of VPNs and proxy servers can be one of the excellent ways in this context.
In any case, getting banned on Omegle can be quite easy. Make sure that you do obey the terms and conditions to be on the right path on Omegle.