How to Extract Music from YouTube Videos Free and Legally: 3 Methods
Summary :
How can I extract background music from YouTube videos and save them to my PC? On this page, you'll find the 3 best YouTube music extractors to download music from YouTube videos safely and legally.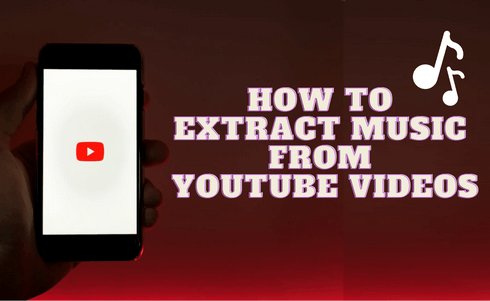 How to Extract Music from YouTube Videos
About a decade ago, most people regard YouTube as a source of celebrity interviews for killing time. But now it is not the case. YouTube now becomes a source of educational content, such as famous speeches, and popular science talks, an essential marketing channel for promoting, and the biggest platform for music video releases. What's more, according to the data from YouTube, music videos are always top for most-viewed videos ever.
But there will be situations where you cannot watch the music video casually while walking or working and then you will wonder if there is a way to convert the YouTube video to MP3. Our answer for you is Yes. Here we will show you how to extract music from YouTube videos free with four online videos to MP3 converters.
Do Not Miss: How to Make a YouTube Intro Videos on Computer and Mobile
1. X2Convert
This website (https://x2convert.video/en455) is an online tool used to quickly download videos from multiple platforms in different formats (MP4, HD, Full HD), including YouTube, TikTok, and Facebook and convert YouTube videos to MP3 for extracting the music or hot speeches in high available quality for free, which is up to 320kbps in maximum. What is impressive is that it provides detailed step-to-step guidance on how to use its features. It is considerable.
Just like online video editors, X2Convert works in a web browser and greatly simplifies the process of YouTube video download and MP3 conversion. And for using it, you don't need to register first. Have a try now.
PROS
Easy to use, no ads
Work as both video downloader and converter
Multiple languages are provided
Download videos from TikTok
CONS
Not support batch download
More videos platforms are demanded
Free Convert YouTube Videos to MP3 and More
FilmForth is a multifunctional and powerful video music extractor that helps to convert local YouTube videos to MP3 audio without cost.
Totally free to use
Video and audio editing features
One-click audio extraction
How to Extract Music from YouTube Videos Using X2convert
Step 1. Copy the YouTube video URL that you want to convert to MP3.
Step 2. Visit X2Convert Convert MP3 Video YouTube, paste the copied URL under the search bar and next tap Get Link MP3.
Step 3. Wait a while until the YouTube video is wholly converted and tap Download to save the MP3 file on your device.
2. YTMP3
This website is also a popular video converter that allows you to convert not only YouTube videos but also videos from Twitter, Instagram, Reddit, and Facebook to MP3 and MP4. It has a very simple and clean interface which is easy to navigate. And it's a better YouTube to MP3 converter for mobile phones.
When entering the site (https://ytmp3.nu/), you will see a search bar under which there are two options: One is MP3 and the other is MP4. If you want to convert a YouTube video to an MP3 file, choose MP3, and choose MP4 to convert the video to MP4. Besides the online web version, YTMP3 also has a version for Android, you can get YTMP3 from Google Play.
PROS
Clean interface
Convert videos to MP3 and MP4 files
Support dark theme
Provide MP3 cutter
CONS
Limit video length to 90 minutes to download
Limited audio and video formats supported
How to Extract Music from YouTube Videos Using YTMP3
Step 1. Open the YouTube video to copy its URL and insert it YTMP3 converter. Here choose MP3 between the two conversion formats. Now you can tap Convert to start YouTube video MP3 conversion.
Step 2. Once the conversion is finished, you can tap the download button to directly download the MP3 file. If there is another video to be converted, you can tap the convert next button to start a new conversion.
Step 3. If you are not satisfied with the converted MP3 file for some soundless parts, you can use YTMP3 cutter to remove them or cut the length of it.
3. Y2mate
This site could be the best YouTube video converter. You can tell it from Google Rank. When you are trying to find a tool for converting a YouTube video to an MP3 file by entering keywords in Google, such as YouTube video converter or convert YouTube video, you will always find Y2mate site tops on the search results.
Compare to the other YouTube converters, Y2mate supports more convert formats. With it, you can convert YouTube videos to MP4 including AVI, FLV WebM, m4a, MOV, and 3gp. For MP3 conversion, it can convert YouTube videos to mp3 Audio in multiple formats like 360p, 720p, and 1080p. It is free and easy to use, you can directly paste a YouTube video URL to start immediately.
PROS
Unlimited use for free
Convert videos into high-quality MP4s and MP3s
support all video and audio formats conversion
CONS
Redirect to other sites for advertisement
How to Extract Music from YouTube Videos Using Y2mate
Step 1. Search or directly paste the YouTube video URL in Y2mate search bar and tap Start to start converting.
Step 2. After the conversion is done, you can see the Download Video button, tap on it and finally choose the MP3 option to download the MP3 file.
How to Extract Music from YouTube: FAQs
Q1:Is It Legal to Download or Convert YouTube Videos?
YouTube does not permit users to download YouTube Videos, but Youtube shows no desire to sue users who download videos for personal use. But do remember that it is illegal to download copyrighted videos.
Q2:Is It Safe to Use YouTube to MP3 Converters?
When browsing a website, we should pay attention to protecting our private information especially when being asked to enter some information for registration or upgraded service.
If you don't know whether the YouTube to MP3 Converter is safe, read the reviews of it and will be sure of your choice.
Conclusion
Using a YouTube to MP3 Converter can help you extract audio from a YouTube video while keeping high audio quality. These three recommended online converters allow you to easily get the music you liked on YouTube so you can listen to them offline.
But note that the converted videos are safe for personal use, but if you want to use them for commercial purposes, you need to ask for permission from the owner.