How to Upload YouTube Shorts in 2023 [PC & Mobile]
Summary :
YouTube Shorts is a short-form video experience for Creators,it is available for both Android and iOS platform. You can easily upload your shorts to the internet's largest video-sharing platform to attract the attention of new viewers.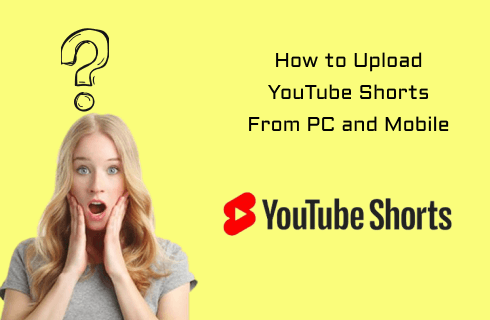 How to Upload YouTube Shorts
How to Upload YouTube Shorts
YouTube Shorts is what YouTube has brought up as a competition to Instagram Reels and TikTok videos. The YouTube Shorts are pretty easy and simple to create, and you should be able to upload the videos relatively easily and through simple steps. Let us try finding out how to upload YouTube Shorts in 2022 on PC and mobile.
Do not miss: How to Disable YouTube Shorts Permanently, How to Download YouTube Subtitles Easily, How to Convert Youtube Playlist to MP4
How to Upload YouTube Shorts From a PC
If you are using a PC to upload YouTube Shorts, the steps are quite similar to the ones used in uploading any of your other footage. You may, however, need to follow a few steps that are specific to YouTube.
If you are uploading your videos on a PC, you need to satisfy a few of the following conditions –
Your videos should never be longer than 60 seconds in duration. Videos longer than that will be treated as normal YouTube videos and not as Shorts.
They need to be shot in portrait orientation and should preferably be in a 9:16 aspect ratio.
The title or the description should contain the words – Shorts 
The preferred resolution for your videos should be 720×1280 or 1080×1920.
Once you have assured yourself that the above requirements have been met, you can follow the steps here below:
Step 1. Select the shorts videos that you want to upload
Launch any of your favorite browsers and go to YouTube. Ensure that you have signed in to your YouTube account, and click on Create icon at the top right corner.
Click Select Files on the window that shows Upload Videos. Locate and upload your short video onto the service.
Step 2. Make the videos Shorts
Go to the Details window and add #Shorts to the title and description of the video. You can choose a thumbnail to represent your video. Choose the appropriate Audience for your video, make any of the changes that you would want to make, and click on Next. Under Video elements on the next screen, choose your preferred elements and then click Next. 
Step 3. Publish the Short video
On the Visibility window under Publish/Save, again select your preferred parameters. You can also schedule your video to be published at a specific time. Click on Save to publish your video.
How to Upload YouTube Shorts from Mobile
When compared to the steps involved in how to upload YouTube Shorts on PC, the method or the steps in how to upload YouTube Shorts from mobile should be quite straightforward and easy to follow.
Do note that the guidelines you need to follow for uploading the YouTube Shorts will remain the same as with the method for PC. Your videos should be less than 60 seconds long and have a portrait orientation in a preferably 9:16 aspect ratio. You would also need to have the words Shorts in the title or description. Here we go with the steps that you can follow.
Step 1. Select the video to upload
Launch the YouTube app on your iOS or Android smartphone. Tap on the + icon at the bottom and then tap on Create a Short. If you are creating a how-to video for software, we would recommend using RecForth as a powerful tool for the purpose. It is a worthy tool for all your requirements and expectations.
On the next screen, tap on Upload from the bottom right corner. Now select and upload a short video. You would need to tap on the gallery icon to choose your file.
Step 2. Add the video details
You can add music and text to the video on the next screen. On the next screen, after clicking Next, provide a name for the video. Ensure that you have added the words #shorts to the title or description. Choose the right audience for your video.
Step 3. Upload the video
Tap on Upload, and your video will be uploaded to YouTube.
The Closing Thoughts
If you are looking to learn how to upload YouTube Shorts from a PC or mobile, you will find it fairly easy and simple enough. You just need to make sure that the video has been created in a portrait orientation with a 9:16 aspect ratio and that the video is under 60 seconds in duration. Once that has been assured, the process of uploading your videos is extremely simple to follow.