How to Add GIF to Video Online/Offline [4 Ways]
Summary :
Adding GIF animations to videos often attracts viewers' attention and adds more fun to videos. Are you confused about how to add GIFs to your videos? Read on and you will know 4 ways to add GIFs to videos for various devices and platforms.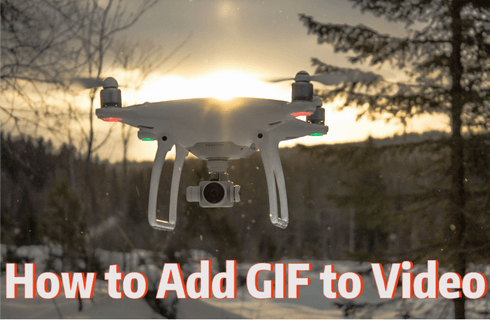 How to Add GIF to Video
Content Table
GIF is an abbreviation of Graphics Interchange Format, which means "image interchange format" and is a very common moving image format nowadays. Because of its personalization and visualization, it is preferred by more people, especially because it can express emotions and moods more than pictures. So many video editors think of incorporating GIF animation in their videos to increase the fun of the video to attract more viewers. So, a new question arises, how to integrate GIF animation into video? This article will show you five ways.
How to Add GIFs to Video With Software (2 Apps)
When your network is limited or stuck, going offline becomes a must. So that's where desktop or mobile apps come into play. Here you will find two great video editors and detailed steps to add GIFs to videos with them.
FilmForth
FilmForth is a powerful and easy-to-use video editor for Windows. Its power lies in the fact that it supports various functions for making movies, such as picture-in-picture, green screen, splitting, adding GIF animations, freeze frames, variable speed, watermark-free 4k HD export, and so on. FilmForth is Powerful and free. At the same time, FilmForth's working logic is simple, you do not need to spend a lot of time learning and studying, you can quickly get started to create your style of a blockbuster. So to add GIFs through FilmForth, you only need 4 simple steps to do.


Step 1. Open FilmForth
After downloading FilmForth from the official website, double-click the desktop icon to open it. Click "New Project" in the main interface to add video clips, when you see your video clips are placed on the timeline, it means it is successfully added.
Step 2. Add GIF Animation
Mouse-click the video clip on the top of the timeline, and you will find that the ribbon below will change. Click "Add"-"Add GIFs/Stickers" below, and the GIF animation library in FilmForth will be brought up. Here you can choose your favorite GIF animations and fit your video style. Of course, if you want to add your own saved GIFs, you are also allowed to do so. You just need to "Add"-"Add Video/Photo Clips" to select the file or return to the main interface and click "Picture in Picture" to set the picture in the picture. Click for more details on making a picture-in-picture video in FilmForth.
Step 3. Edit GIF
After adding the GIF, you can see the animation on the preview screen. Click the GIF clip on the top of the timeline to set the specific settings via the toolbar below. If you set the GIF as a picture-in-picture, you can set the size, position, and orientation of the picture-in-picture by clicking on the border of the preview screen. Most notably, FilmForth also supports you to create your GIFs.
Step 4. Export Video
After you finish adding and editing all the GIFs, you can export the whole video. Click the "Save Video" button at the bottom right corner to save the video.
CapCut
CapCut is video editing software for Windows, Mac, iOS, and Android. It is also a high-quality short video editor for TikTok. If you want to use CapCut to add GIFs to your videos, it's very convenient. Or you can click for a general review of CapCut.
Step 1. After downloading CapCut, open the CapCut video editor, and click "New project" to import a video to be edited. (Here we are talking about using CapCut on mobile, you can learn how to operate CapCut on Windows & Mac in our other article)
Step 2. CapCut provides you with two ways to add GIFs. Click "Stickers" on the main interface, and you can select the appropriate GIF from the preset GIF animation library to add. Or you can click the "+" at the top left to select from your device's folder.
Step 3. Click the GIF clip on top of the timeline to adjust some specific parameters for it.
Step 4. After adjusting the export resolution at the top right, you can click the arrow symbol to save the video to your local folder.
How to Add GIF to Video Online (1 Tool)
When you have limited memory or use video editing software infrequently, online video editing tools with an internet connection will be a better helper. Below you will find one very handy online tool for adding GIFs. Maybe you don't want to miss 22 Best Online Video Editors.
FlexClip
FlexClip is a very convenient and useful online video editing tool. And it has a very powerful online library of animated GIFs, from which you can get many popular GIFs. Follow the steps below to learn how to add GIFs to your videos.
Step 1. Enter the FlexClip website and follow the navigation to add a video to be cut. And drag the video into the timeline to make it appear on the preview screen.
Step 2. Click "Photo-GIF" on the left toolbar and select the GIF you like from the default animation gallery to add.
Step 3. Click the GIF in the video preview window to align it with the filters, position, size, and transparency, etc.
Step 4. Export the edited video to save it.
FAQs
How Do You Overlay a GIF on a Video?
To add a GIF to a video, you just need to complete three clicks in FilmForth: "Add-Add GIFs/Stickers-Choose".
How Do I Put GIFs on My iPhone Videos?
Editing iPhone videos can be a problem because of the limitations of many software for devices or platforms. We suggest you download a CapCut to add GIFs to your videos.
How To Add Gifs to a YouTube Video?
YouTube is currently a very popular social platform. So it has become popular how to add videos to YouTube videos. You can directly download the YouTube video and then import it into FlexClip online tool to add GIFs according to the above steps.
Conclusion
This article has introduced you to the five different methods you can use to add GIFs to your videos. If you want to do this without taking up any storage space and with a good network, you can do it by going directly to online tools like FlexClip, Veed, and ANIMOTO. If your network is limited, then FilmForth will be a better choice for you. It will only take up a small amount of space but will greatly improve your efficiency.