How to Merge Videos on Windows 10 & Windows 11 with the 7 Best Video Mergers
Summary :
Merging videos is an important skill that is also frequently applied to editing videos. Don't worry, below we introduce the 7 best video mergers, using simple and straightforward ways to merge videos.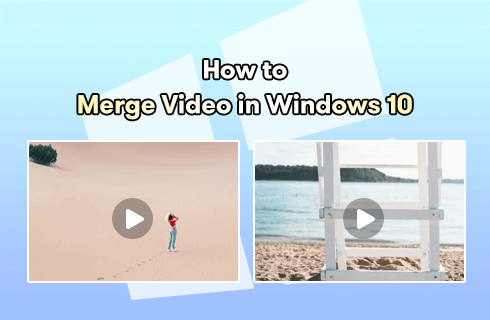 How to Merge Video in Windows 10
7 Best Video Mergers for Windows 10 and 11
If you have a massive list of small videos that you are looking to merge into one, you would perhaps want to join them together in one big file. There are several video mergers and joiners that you would find offering decent performance in how to combine videos on Windows 10 offline. We will cover the 7 best options to merge videos on Windows 10 and Windows 11 from this perspective.
Related Guide: 3 Free and Easy Methods to Split a Video into Multiple Parts
1. How to Merge Videos on Windows 10/11 with FilmForth
FilmForth is one of the most influential and efficient video joiners that you can ever put to great use. The lightweight yet powerful video editor lets you merge videos in Windows 10 with easy-to-use steps. Apart, it also lets you handle various video editing tasks such as adding special effects and filters, funny stickers, transitions, creating YouTube intros, and much more.
FilmForth is the best free video merger application that works on Windows 10 and Windows 11. It allows you to flexibly combine and split video clips, and add smooth video transitions and effects.
PROS
You do not need any special video editing skills to merge your videos
It also lets you save the videos with no watermark if you are opting for the premium option
No complicated timelines and tracks that you need to follow
CONS
Supports Windows system alone
Occasional crashes reported
Step 1. Create a Project on FilmForth
Download FilmForth from the IoForth official website to download and install FilmForth from Microsoft Store. Once the app is installed, launch it and click on New Project to create a new project.
Step 2. Import the Video Clips that You Want to Merge
Import the video clips to be joined into the app interface. You can either use the drag-and-drop feature or go with the traditional add files feature by clicking on Add Video/Photo clips. You would find them lined up in your timeline.
Step 3. Combine the Multiple Videos into One
Videos that are added to the FilmForth timeline will be automatically combined and merged together on saving and exporting them. You can use the drag-and-drop feature to change the position of the videos after merging them together.
Click on Save Video at the bottom right corner of your screen and choose the option for the resolution before exporting the video by clicking on Export Video.
You can perform the video edits if you want to before you can merge and export the video. When you save and export the video, the saved file will be a merged one.
2. How to Merge Videos on Windows 10/11 with Windows Photos App
Since now you can't use Windows Video Editor to merge videos (Windows Movie Maker), the only inbuilt option left is Photos.
The Photos app on Windows is one of the best tools for merging your videos, and there are other practical features like video trimming. Though the app is labeled as Photos, it does handle both videos and photos. The app comes preinstalled on Windows 10 and Windows 11. Ease of use is one of the strongest features in its favor.
PROS
Free to use and comes pre-installed
The best choice for amateurs and beginners
Ease of use and simple interface
CONS
No advanced features
No media resources and templates
Step 1. Open the Photos App and Import Videos
Open the built-in Photos app and then import the videos into the Photos app. Click on the option New Video Project. Go to the folder where your videos are located and add the videos to the app.
Step 2. Arrange the Sequence of the Videos and Adjust the Same
Use the drag-and-drop feature to assemble the clips in the correct order. You can even make use of the Enhance option to fine-tune the videos as per your preferences.
Step 3. Finish the Project and Export it
Once you are done with the editing, export the video. Tap on the option Finish Video and then Export. You can choose the quality of the video.
3. How to Merge Videos on Windows 10/11 with Windows Movie Maker
Before you can move ahead and use the Windows Movie maker to merge videos, it should be noticed that Microsoft has discontinued Windows Movie Maker.  Windows Movie maker is a part of the Windows Essential Software suite. The tool is used for creating videos and then publishing them onto OneDrive, Facebook, Vimeo, YouTube, and Flickr.
PROS
 Allow you to import and organize footage in several formats
Build-in excellent themes, fun transitions
Supply bravo effects and transition
CONS
suffering from frequent crashes
One video track and one audio track only at any instance
Step 1. Download Windows Movie Maker and Install it
The tool is no longer available for download. You can make use of the download link from the archives, as can be found beneath. You may also have it already on your system.
Step 2. Add Your Videos
Locate the Add Videos and Photos section on the Home tab. Select the video clips that you want to add. You can also use the drag-and-drop feature to add the files.
Step 3. Arrange the Video Clips
You should find all the video clips you have imported listed under the timeline. You can again use the drag and drop feature for a proper position.
Step 4. Save the Video Files
Add the transitions to the video, and you will find the video merged in the order of preference that you have configured them in. Click on the Save Movie button, and you are good to go.
4. How to Merge Videos on Windows 10/11 with Movavi Video Editor Plus
A tool that has been around since 2004, Movavi Video Editor Plus has been a capable video editor par excellence. With over 3 million users, the service is being used in over 200 countries globally. Right from converting a screen recording to handling a wide range of video editing needs, the tool has been able to handle all the video editing needs that you can think of.
PROS
Simple and easy-to-understand interface
Faster movie creation option
Motion tracking
CONS
No advanced trim modes
Slower rendering performance
It May is not compatible with a few Apple devices
Step 1. Download and Install Movavi Video Editor Plus
Download and install the Movavi Video Editor Plus on this device. You should be able to complete the process in a few minutes.
Step 2. Launch the Program and Add Your Files
Choose the Add files option to add the files to the platform. They should be added to the Media Bin. Drag and drop them to the Timeline. You can also adjust the order of the videos by dragging them around the timeline.
Step 3. Save the Edited Video
Exporting and saving the video should result in the merged video. You can apply the transitions and other video editing options if you are looking to edit the videos before merging them together.
5. How to Merge Videos on Windows 10/11 with Animaker
Animaker video merger tool is yet another great option that you would find quite unique and exciting. It has been regarded as the right tool to provide you with an option to merge multiple tools together. The simple tool should prove to be much handy in providing you with a compelling video merger capability.
PROS
Cheaper video editing options
Easier to use
An extremely handy list of support articles
CONS
Limited level of functionality
Less flexibility
Step 1. Download and Install Animaker
Download and install Animaker. You can install the app and move on to the option Create a video.
Step 2. Upload the Videos to the Tool
You can upload videos of the size of up to 20 GB in size. Go to the Upload tab and click on the Upload option. You can drag and drop the files if you wish to.
Step 3. Add Your Videos and Download
Add the videos to the timeline one by one. you can even apply the video editing options as per your preferences. Once your editing is completed, you can simply click on Publish.
6. How to Merge Videos on Windows 10/11 with VLC Media Player
VLC Media Player is a free and open-source media player app well-received by the public. While it's actually a media player application, it does offer basic yet practical video editing features such as video combining, trimming, cropping, video rotating, etc. which makes it one of the best video mergers for Windows 10. The best part about it is that many of us may have already installed VLC on our devices.
PROS
Completely free to use
Extensive media-related features
Video downloading features supported
CONS
The not-so-intuitive video merging process
Higher level of video editing features are not available
Step 1. Download and install VLC from the VideoLan official website.
Step 2. Launch VLC Media Player, go to the Media tab, and select Open Multiple Files from the dropdown.
Step 3. Hit the Add button to import the videos you intend to merge.
Step 4. From the Open Media window, hit the downward triangle from the Play button and select convert.
Step 5. From the next Convert window, specify the output format and hit Start.
7. How to Merge Videos on Windows 10/11 with Adobe Premiere Pro
Adobe Premiere Pro is always the prior option if you want to edit your videos in a more professional way. And merging videos is no exception. Using Premiere Pro to merge videos gives you better control over the merging process, better accuracy in video splitting, and extended features in terms of video merging. In the following, you'll find out how to easily merge videos in Premiere Pro.
PROS
The professional video merging process
Precise controls over split and merged videos
Pro-level transitions to add between the merged video
CONS
A paid Windows 10 video merger
Learning curves for video editing beginners
How to Merge Videos on Windows 10 Using Premiere
Step 1. Launch Premiere Pro on your computer, and import the videos you intend to combine into one.
Step 2. Drag and drop the imported video clips into the timeline.
Step 3. Drag and drop to rearrange clips in the timeline, and use Shift + click to select all the video clips you intend to merge.
Step 4. Right-click on the selected video clips and click Nest to create a nested sequence.
Step 5. Hit OK for confirmation. A nested sequence is a container that contains the merged videos.
Make Sure to Add Transitions to Merged Videos
After you've merged multiple videos into one, different added video segments into the whole video may seem weird. Adding and inserting video transition effects in every adjacent video is a perfect way to make your videos look smoother. Many introduced video mergers in this article offer cool video transition effects, and here's how to add transitions to videos in FilmForth video editor.
1. When you have merged two video clips in FilmForth, hit the transition icon that is located between the two merged videos.
2. Hit the Transition button, and browse for a favored transition from a list of smooth transition effects. Adjust the transition duration if needed.
3. Hit the backspace button from the lower-left side, and the selected transition effect will be automatically added to your merged videos.
For more details, you can refer to our guide to adding transitions to videos.
The Concluding Thoughts
There are several reasons that you would want to merge multiple videos. If you are looking to merge multiple videos, you will find you have access to multiple tools to help you achieve the task.
You can put a host of these tools to some test and pick the one that best meets your individual needs and preferences. All the five methods outlined in the above discussion should assist you in how to merge two videos in Windows 10.