How To Record Instagram Live Videos On Any Device
Summary :
This page discusses the top four methods for easily recording Instagram live videos. If you're interested, keep reading this informative post.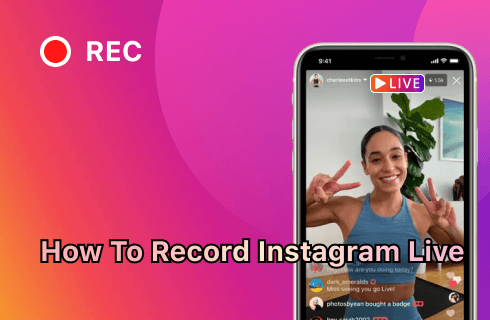 How to Record Instagram Live
How to Record Instagram Live
Streaming live is the ultimate vogue thing now on social media. With the advent of Youtube, social media platforms have transitioned more into visual communication platforms. One of the leading names for this segment as of today is Instagram. Instagram is an image-oriented social network where people share some of their photos and other users interact with these photos and have intimate cozy conversations in its groups and messages through these photos.
The entire image sphere has been made social media appropriate by Instagram, enabling sharing, and editing, and making it a more common people-centric stock photo-sharing platform. The next feather in the cap that Instagram had to wear was going live and now even that is also accomplished. Sometimes when you get famous for the first time, you want to capture the glorifying moments, the fans appeasing you, gifting you, it's all normal, trust me. So, How do you record an Instagram Live and rekindle such happy times? This is what you and I will understand today.
Do not miss: 4 Simple Ways to Screen Record HBO Max, How to Record Skype Calls on Windows and Mac, How to Record Duo Video Calls for Free on Any Device
How To Record Instagram Live With Sound(Windows 10/11)
Windows 10/11 has Xbox Game Bar which works exceptionally well with recording game previews or gameplay. It is also used as a screen recorder and video recorder as well. It has many customizable options as well. But there is even a better tool and software that you can use, RecForth by IoForth that provides a seamless recording option. It has many editing options and ensures that the product is great. Let us learn how RecForth works.
Features of RecForth
Ability to record from input as well as output sources.
Customization is available for video frame rate and resolution.
Inside the platform editing software exists that helps in primary edits.
Selecting a section of the screen to record is available.
Cursor edits can be done.
Separate window recording can be done.
Recording of both internal and external media can be done.
Step 1: Download and install RecForth
Go to the Microsoft store to Download RecForth, and follow the on-screen introduction to install this software on your Windows device.
Step 2: Customize the recording setting
Select one recording mode and a recording region. Configure a webcam, microphone, frame rate, and video resolution.
Click the gear-shaped Setting button in the bottom right corner of the main panel to access more advanced settings such as hotkeys, output positions, pointer effects, and so on.
Step 3: Start live streaming on Instagram
Open your Instagram now and interact with the audience, when you feel you need to record it, simply click on the red Record button.
Then RecForth will start to capture the Instagram live happens on your screen.
Step 4: Stop the recording
You need to press the record button again to stop recording. Another small window opens with a file.
Here you can edit through FilmForth in selecting certain timelines, choosing frames, and optimizing the video. Then save the file in a simple local folder.
How to Record Instagram Live on Mac
The Quick Time Player comes with your Mac device, and it supports you record anything happening on the screen, including Instagram live and YouTube videos.
The criteria here is simple, you press record and stop recording when done. The file gets saved at a system location. You access the file from there. Post-recording you can also edit it.
The Quick time player enables recording just that customization to encode a special video codec isn't there.
Step 1: Go to Applications on the Apple Home screen. Now access Quick Time Player.
At the very bottom, you will see the window open.
Step 2:There will be a file option too in the Quick Time Player. From the left, it will be the fifth icon resembling just the 2nd icon but with a small concentric circle. Click here and then click on 'new screen recording'.
Step 3: On the extreme right, you will find the record button, click that.
Make sure that you are all set with Instagram live and then click the record button.
Step 4: Click the 'record' button one more time to finalize the recording. Access all these files from the local system directory for videos.
How To Record Instagram Live On Android
The Instagram live recording is much easier when we do it through the phone. At least the process is faster and does not take a lot of time to process the recordings. It's fairly simple and pretty easy to perform.
It's fairly easy to record and access the recorded videos. It's a simple two-way process.
Step 1: You swipe down your drop-down menu. Look for a screen recorder from the list of tools.
Step 2: Tap on the screen recorder before going live on Instagram.
Step 3: Then tap on it again once you are done recording live.
All your files will be accessible from the system video directory.
How To Record Instagram Live On iPhone
Just like in your Android phones, you access the drop-down menu and click on the screen recorder option. Similarly, you do that too in Apple.
Step 1: Go to settings on the Apple Home screen. Select 'control center'.
Step 2: Now tap on the Plus screen. Swipe down the drop-down menu.
Step 3: Tap on the white 'circle' button that's the 'recorder.' Then tap again on the white button to stop recording.
All files will be accessible in the video directory of internal memory.
Conclusion
Instagram lives can be thrilling and filled with excitement. You might want to record bits and store them in your memory lane. You can use all these applications as per the platform you have and start recording, after recording you can play the clips as you find it feasible. If it means special to you, store it on Google Drive.