12 Best Apps for Recording Video Lectures
Summary :
Recording videos is an essential means that would make online education all the smoother and more interactive. The right choice of video lecture recording software should be instrumental in enjoying a better experience. The list of the tools that we have outlined here should help you arrive at the best choice in this context.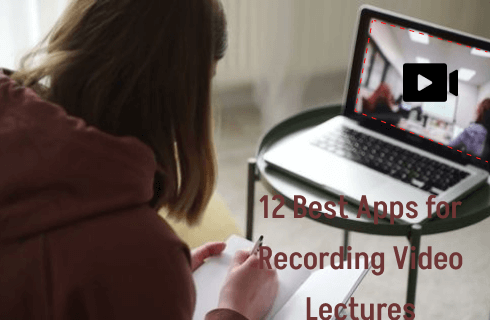 Apps for Recording Lectures
Apps for Recording Lectures
4 Apps for Recording Lectures on PC

4 Apps for Recording Lectures on iPhone

4 Apps for Recording Lectures on Android
The growth of technology has made it quite obvious enough to make things simpler and more accessible. Online classes and video lectures have been one of the unique means in this context.
While videos have emerged as one of the most prominent tools as the best learning aid, being able to record video lectures is something more important. Let us explore a few excellent options for the best apps for recording lectures.
Do not miss: 10 Best Screen Recorder Apps for Mac,12 Best Skype Video Call Recorders, Top 6 Android Screen Recorders with Audio
4 Apps for Recording Lectures on PC
Recording video lectures on a PC should be one of the easiest and simplest ways. Let us explore a few good means for the right app for recording lectures.
# 1. RecForth
RecForth is perhaps one such software that does not need an introduction. It is a free screen recorder tool for most, albeit you will need to go Pro for a few features. A few features that make it a worthy choice for recording video lectures can be cited as the ability to capture any source of sound and pointer highlights that can be used to mark a specific section of the lecture. The custom cursor provides an easier choice to pinpoint specific sections of the video.
Available on: Windows
Key features 
A free screen recorder, some features may need a subscription
Unlimited screen recording options
Advanced recording features
High-quality video recording
Multiple video recording modes to choose from
# 2. WonderShare DemoCreator
Wondershare DemoCreator is one of the prime tools for your needs in a captivating experience with recording video lectures. Flexible video recording is one of the powerful features that makes it a powerful tool. It can record practically everything that, includes PowerPoint presentations and videos.
Available on: Windows and Mac
Key features 
Video editing features
It can even capture videos from a webcam
The custom frame nodes are yet another powerful feature
The green screen capability lets you create astonishing video effects
# 3. OBS Studio
OBS Studio is yet another strong contender for the best apps for recording video lectures. The tool provides you with a one-stop solution for a wide range of applications, such as screen recording, streaming, and video editing. The utterly free tool finds a huge fan base across different genres of users.
Available on: Windows and Mac
Key features 
It can be used for video recording and live streaming alike
Quicker and easier screen capture solution
A neat and clean interface.
It lets you set hotkeys
An ability to manage the quality of the videos
# 4. EaseUS Screen Recorder
The EaseUS Screen Recorder or EaseUS RecExperts is a powerful screen recorder for Windows. It is a versatile video recording tool that can help you record your videos relatively easily. The intuitive and simple-to-use interface makes it a popular screen recorder. We would find it an excellent choice for the best app for recording lectures.
Available on: Windows and Mac
Key features 
It can record streaming audio, video, and webcam simultaneously
Video trimming features are available
You can also schedule your recordings on the software
Multiple modes for output videos such as AVI, MP4, GIF, etc.
High-quality video recording
4 Apps for Recording Lectures on iPhone
Given the popularity of the iPhones among college and university students, it is quite evident to look for a few good apps for recording lectures on an iPhone. Here we go with a few best tools in this context.
# 5. Notability
Notability is one of the excellent and magnificent notepad applications. It provides you with a very easy-to-use interface. It can be a great means to help you take notes simultaneously. The multi-note feature should make it stand apart from the rest, along with the functionality to record and replay your notes.
Key features 
It can save reminders, messages, and shopping lists
You can even alter the notes to suit your own style
Ability to sort the notes as per your chosen parameters
It is also a good choice for creativity.
# 6. Voice Memos
Voice Memos are yet another great means that can assist you in recording the lectures. Do note that the app can only record the audio of your lectures and help you work with them. The tool also works with an external microphone, Bluetooth, or internal microphone. It can save your files in compressed or uncompressed formats.
Key features 
It lets you edit and share the recordings on iCloud
High-quality audio recordings
Easy to use and simple interface
Editing tools for your audio files
Fine-tuning your recordings
# 7. GoodNotes
GoodNotes is yet another solution for iPhone that lets you record your lectures without any external source and hip tool. It doubles up as a digital whiteboard to capture your handwritten notes. You can even record the complete detailed documents as well. The ability to download the lecture slides would further make it stand apart. This is a powerful choice for an app for recording lectures.
Key features 
It lets you take notes in real-time during the lecture
A considerable degree of flexibility
You can organize your files and notes in a streamlined manner
It has been known as a creative application
Automatic cloud sync feature
# 8. Audio Class Notes
The Audio Class Notes is yet another powerful tool for enjoying a powerful and exciting choice in terms of the best apps for recording lectures. It has been regarded as the prime choice for the easiest way to record your class lectures. It should be your one-stop solution for high school and college students alike.
Key features 
Smaller file size for recordings
Regularly updated interface and features
You can even upload your lecture file onto the Dropbox account
Three-speed options
Tag functionality
4 Apps for Recording Lectures on Android
With Android devices ruling the roost everywhere, it is advisable to look for the best Android apps for easily recording lectures.
# 9. Cloudemy Lecture Recorder
Cloudemy Lecture Recorder is a program that will assist you in recording a video lecture along with additional information. The recorder is optimized for mobile devices, making it all the more innovative.
Key features
The tool is best suited for recording image slides, pdfs, or webpage slides
You can even record the presentation
The camera feature would be another added feature that lets you engage your students or audience
Multiple video resolutions that include 1080p, 720p, 480p, 360p, 240p, etc.
Custom settings choices should be another added advantage
# 10. Vidma Record Screen Recorder
Vidma Record screen recorder should be a perfect and unique tool for recording and taking screenshots with a few simple steps. The screen recorder makes it relatively easy to use, with features such as accessible functionality. The features such as pause, resume, record, and screenshot any of the content on your device.
Key features 
Clear audio for your screen recording
The brush tool adds marks on your screen
Customizable and professional editing features
Video trimmer and add music capabilities
#11. TutorRec Lecture Recording App
The TutorRec Lecture recording app is the next on our list of capable screen recorders for video lectures on Android. The easy and rapid video recording and editing capability should make the tool further unique. The high-quality screen recorder doubles up as one of the excellent choices as a tutoring app with unique features.
Key features 
An easy-to-use and robust video online coaching app
You can add sticky notes to the lecture recordings
Easier and fluid screen recording capability
Features for recording, playing, and pausing your videos.
Easy-to-use controls
# 12. Microsoft Lens – PDF Scanner
The Microsoft Lens scanner is a great way to scan your lecture notes and save them either as a PDF file or an image file. The service is available on both Android and iOS devices. It can scan images that contain written materials like notepads, printed documents, and whiteboards.
Key features 
The completely free tool
Ability to scan the OCR documentation
Can effectively straighten the angles of the documents
Creates the documents editable
Shooting, flash, scanner, and an overflow three-dot menu
The Concluding Thoughts
Among the tools that we have outlined in the above discussion, we would treat RecForth to be an extremely powerful and efficient tool for recording your video lectures to be quite effective. The ease of use and simple functionality should prove to be quite interesting in more ways than one.