How to Create Album Cover Video in CapCut: New TikTok Trend 2023
Summary :
Wanna learn how to do the new Album Cover TikTok trend? Learn from the detailed steps for you to create an Album Cover video in the CapCut video editor with ease!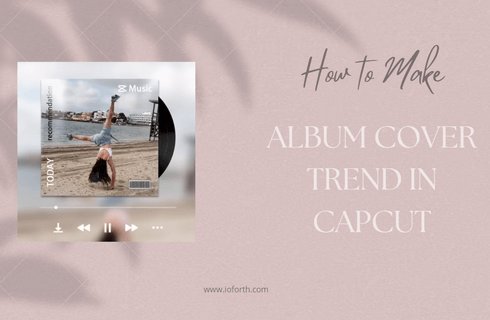 How to Make Album Cover Video in CapCut
The Album Cover video is a new trend on TikTok and CapCut, where any images and videos can be turned into an album cover in the video. This isn't the day one that trend draws all TikTok users' attention, and we're seeing a plethora of TikTok creators, editing their own album cover videos.
So the point is, do you want to join the trend? If so, this page is exactly what you need, learn from the step-by-step guide on how to make and edit album cover videos in CapCut to do the new album cover challenge on TikTok!
Related Post: The Best CapCut Alternatives for PC and Mac
What is the Album Cover TikTok Trend?
The "Album cover" TikTok trend, also called "Proof that not everything can be an album cover", is a kind of video where practically any image and videos turn into a music album cover after the 5-second countdown animation, with cool motion effects.
It is quite contrary to the naming, the video is actually proof that everything can be an album cover, no matter is an image taken from the scene or some random videos in your mobile phone's camera roll.
And what makes everything possible, is the powerful video editing app CapCut, the dedicated video editing app for TikTok, which is now available on both mobile phones and computers.
The following tutorial shows you exactly how to do the TikTok new album cover trend/challenge, using the CapCut video editor.
How to Make an Album Cover TikTok Video in CapCut: Step by Step
To get started, make sure to have CapCut installed on your iPhone or Android phone. For those that haven't, you can easily find the CapCut video editor in the Google Play store or App Store.
Step 1. Go to CapCut Template Section
Launch the CapCut video editor on your mobile phone, and hit the Template button below. Check solutions if you can't find the CapCut template button.
Step 2. Search Album Cover Template
From the upper search box in the Template section, search for "album cover".
Step 3. Select an Album Cover Template
From the search results page, you can browse, preview, and select an album cover CapCut template you prefer, these templates are the works of awesome CapCut creators!
Step 4. Use the Template
From the preview screen of the album cover template, hit Use template from the lower-right side.
Step 5. Import Your Media
Import your own image or video from your mobile phone's camera roll to use it with the CapCut template.
Step 6. Export Album Cover Edit
The final step is to hit the upper-right Export button to save the edit without watermarks. And now it's time for you to share your own album cover edit on TikTok to join the new trend and challenge!
Note: The massive use of CapCut templates is what vitalizes TikTok trends, and you should try some at times. Learn about more Best CapCut Templates to discover more creative ideas for your content!
Album Cover CapCut Free Download Links
The album cover CapCut templates have won over 8.9M edits on CapCut.net, and now there are more than 750 album cover CapCut templates available, make sure to take a look!
How to Edit the Album Cover TikTok Video in CapCut
Of course, video editing professionals and those who're not satisfied with CapCut templates have a chance to bring creative ideas of their own to the newly created album cover video, and this part of the article is to help you do that.
The following are some useful and creative album cover video editing ideas for your to try, make sure to follow the linked tutorials, and see if they have a positive result on your video! For beginners, our complete guide to using CapCut is also helpful.
Narrate the Album Cover Video
Using the TikTok automatic text-to-speech feature to narrate your CapCut album cover video edit is a novel way of expressing yourself. Since not many people have tried that yet, and maybe your creation will be the one that spreads the idea!
Velocity Edit
The velocity edit is a unique feature that allows you to smoothly change video speed in CapCut. By using the speed dots, you get to fine-tune the album cover entering transition in a more refined way. And with the correct configuration, a more awesome effect will be achieved.
Overlay
Using overlay wisely allows you to do various things: using multiple images in one album cover; inserting stickers, animation, or effect overlays into your CapCut album cover editing; or adding text such as album lyrics into the album cover video edit.
Filters
Filters are a good option when you want to give your video edit a cool, professional, or aesthetic feel. By using the correct CapCut filter, you can give your album cover specific auras and textures that match the theme of the video.
It's Your Turn Now
I hope this article can be helpful for you to understand the Album Cover TikTok trend and do one using your own photos and videos. Bear in mind, the one simple step toward your next viral video on CapCut could be your new Album Cover video created by following this guide, so let's get started! And if you have any trouble or problems creating the video, don't forget to leave a comment and let us help.