How to Make Video Tutorials
Summary :
Video tutorials are becoming more and more popular as people are more and more eager to learn. It also serves as an important marketing tool for product promotion. Therefore, how to create a video tutorial has become a popular issue. In this article, you can know the steps of making a video tutorial and the suitable software and online tools.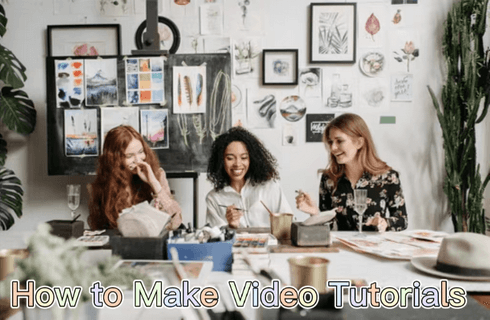 How to Make Video Tutorials
Content Table
When you want to search for how to do something, how to complete a process, or want to show consumers the details of how your product works, you will want a detailed step-by-step guide and graphics to go with it. This will give you quick and precise answers. That's why video tutorials are available. Visual step-by-step instructions and flowcharts make it easy for viewers and questionnaires to get detailed answers quickly. But it's not easy to create a good Video Tutorial. This article will take you step by step through how to create Video Tutorials and the software that can be used.
What is a Video Tutorial
A video tutorial is a video-based approach to answering questions or imparting knowledge, primarily through the Internet. It is not limited by time, place, or content to guide the questioner to the solution of a problem or to guide the user through a specific task, or to convey information. At the same time, video tutorials are not limited to the industry or profession of the recorder, so anyone can create unique video tutorials. At the same time, the visual steps and clear logic make video tutorials more and more popular. Do you also want to record and publish a great video tutorial efficiently? Read on to learn more about these key points.
How to Make Video Tutorials
Although video tutorials are not limited by profession, industry, or experience, it is not easy to create a great clickbait video tutorial. Anything that is done must be carefully planned, so here are eight steps to help you understand how to make a complete video tutorial.
Step 1. Know Your Audience
The main purpose of video tutorials is to solve problems or provide services for users, so before creating a video tutorial you need to understand the needs of the people who ask questions. Before that, you need to determine what kind of audience you have so that you can have a purpose and direction to determine their real needs, their purpose, and their preferences. Then you can determine your topic and framework.
Step 2. Record Keywords
Once you know your audience, to reduce the cost of forgetting, you can write down the information you have gathered during your research or study on a piece of paper or an electronic file. You don't need to write down all the details, just the keywords, and this step often doesn't take much time.
Step 3. Write the Video Script
Once you have the body of the video and a bunch of keywords, you can make up a paragraph by linking the keywords together. Again, just record the key phrases and then link them together to make a simple step-by-step marker to create an easy-to-read script. This will guide your shooting progress afterward, making your shooting smoother and less chaotic. Then it's crucial to familiarize yourself with your content and read through all of your phrases to ensure you don't forget them during the shoot.
Step 4. Prepare the Recording Equipment
Next is to prepare the equipment for filming, you can choose to use the phone to shoot (preferably with a stand to ensure that the lens does not shake) or you can place the camera on a tripod to shoot. Of course, you can also directly use the computer camera to record, which will also be very convenient.
Step 5. Recording Video
Now comes the most critical step: start your video recording. If you are recording some cooking or craft tutorial videos, then you need to avoid a cluttered environment and place all the ingredients you can use together so they can all be in the shot. Then you just need to follow your script and prepare your words in an orderly fashion. If you need to record your computer desktop or cell phone interface, then it is best to close some unnecessary pages first, and then open your computer recording program or recording app on your phone to record.
Step 6. Record Audio Narration
To make your tutorial steps clearer and more oriented, you need to record some voice-overs as a reminder. Be sure to choose a quiet place with no echoes. This will improve the viewer's perception and the quality of your video. If you are unfortunate enough to record some noise, you can also eliminate the background noise with the help of some video editing software.
Step 7. Edit Your Video


After you have recorded a video tutorial, you need to highlight and annotate the key points in the video, and FilmForth can do this (Download FilmForth in the official website). You can add narration to your tutorials and zoom in on them with the "Motion" feature. And add your monologue box with the Picture-in-Picture feature. And, you can add subtitles to make it clearer for your audience.
Step 8. Upload and Share
Now you just need to share or upload the video to YouTube, Instagram, Twitter, TikTok, and other social media platforms. Finally, you need to track your video tutorial to see some viewers' feedback and click-through rates to reflect and improve it properly.
FAQs
What Is the Best Software for Making Video Tutorials?
To present video tutorials in a better way, you often need the help of suitable software. Downloading iSpring Suite can provide you with professional and versatile assistance.
How Do You Make an Effective Video Tutorial?
To make an effective video tutorial you need to first decide on a video script and topic, then record and edit the video, and finally save and share the video. You can learn about some online editing tools to edit your video by reading this article.
How Do You Make a Tutorial Video on Your Phone?
Because of the limitations of carrying it on your desktop, it would be easier to do the tutorial on your phone. You can adjust your phone's camera parameters, make sure you are holding the phone with two hands to ensure smoothness while recording, and then choose a video editing tool for your phone to beautify the video.
Conclusion
Now you've learned eight tips for creating video tutorials and some considerations. You can follow the tips in this article to start recording your video tutorials and use FilmForth to add some arrows to your videos, highlight areas, add appropriate titles, add subtitles, and more. You can make impressive video tutorials if you want.